The Winning Hamish Gin – Limited Edition for sale
St Andrews' charitable organisation The Hamish Foundation recently embarked on an innovative fundraising initiative to support local community projects for 2020 in conjunction with the award winning Tayport Distillery. A series of gin blending masterclasses were held at Hams Hame Pub and Grill with attendees at each event creating their own blend of the popular tipple and with an overall winner being chosen by a local judging panel resulting in a limited edition bottling of 'Hamish Gin' which will be on sale to the public in time for the festive period.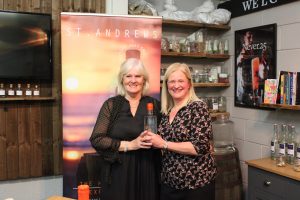 The overall winner whose blend will be bottled is Marjorie Dalton of The Adamson, St Andrews. Marjorie's winning blend was assessed by the judging panel as having an over-arching floral nose with the presence of juniper and rose petal with coriander and lemon peel balancing the juniper to taste, allowing the citrus notes to come forward. The Adamson will also be creating a special Hamish cocktail using Marjorie's winning blend.
Marjorie commented on her winning blend: "I was absolutely thrilled and delighted to win, the event was a thoroughly enjoyable experience, super fun and a great initiative for the Hamish Foundation Charity".
Kecia McDougall (Director of Tayport Distillery and one of the judging panel) said: "We are so thrilled to be announcing Marjorie as the winner of the Hamish Gin competition in aid of The Hamish Foundation. Marjorie fully embraced the blending evening, experimenting and trying new botanicals to create a well-balanced and exclusive gin. It has been a pleasure working alongside The Hamish Foundation to collaborate and create a unique fundraising opportunity, providing blending experiences and their own limited edition gin. Hamish will be adding his own stamp to the gin with the addition of Catnip as one of the botanicals".
Maggie Picken, a founder of The Hamish Foundation and member of the judging panel, said:  "After several very successful gin making events it was a closely fought battle between the final three for the winner of our charity gin event. The final tasting was kindly hosted by the Old Course Hotel in their boardroom. Marjorie's secret recipe will be used to produce a limited edition run of Hamish Gin which will be available for Christmas and we hope the local community will support us in buying this gin as the proceeds will go towards supporting the beach wheelchairs and other good causes".
The limited edition Hamish Gin can be purchased online click here.  All proceeds go the Hamish charity.